Film reviews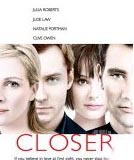 Title: Closer
Director: Mike Nichols
Stars: Julia Roberts, Jude Law, et al.
Reviewer: Matt Eccles
Rating (out of 10): 7
Review:
A common criticism of film scripts adapted from stageplays is that they fail to escape their theatrical roots. This claim is often misconceived, as it seems to preclude the movie version being judged entirely on its own merits. Of course, this need not be the case. So on this view, whether or not Closer wears its origins on its sleeve, who cares? Either way, Patrick Marber, who has adapted his own stage play (and with whom many Brits will be familiar from his various appearances in the brilliant BBC spoofs Knowing Me, Knowing You With Alan Partridge and The Day Today), has produced an intelligent, bitter and astute observation of contemporary relationships and their seemingly inevitable romantic entanglements.

Director Mike Nichols is also on good form, as well as familiar territory (Who's Afraid Of Virginia Woolf? and Carnal Knowledge are on his CV), as is show-stealer Clive Owen, who appeared in the original play (albeit as a different character).

Undeniably, it is mostly the presence of such A-listers as Jude Law, Julia Roberts and Natalie Portman that attracted its deserved US box office success, but they and Owen give fine and compelling performances in scenes that alternately show the blossoming and decay of their characters' interweaving relationships. The associated torments of duplicity, mendacity, jealousy and guilt, all of which elicit some memorable rants, are portrayed with expert relish.

However, for all the satisfyingly fork-tongued wit running throughout, the film begins to lose its way. This is compounded by a rather weak and pointless twist that lessens the credibilty so richly earned beforehand. It is these reservations that prevent Closer from achieving its potential of greatness, but it remains one of 2005's better offerings nonetheless.