Film reviews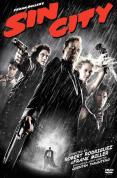 Title: Sin City
Director: Robert Rodriguez and Frank Miller
Stars: Bruce Willis, Mickey Rourke, Jessica Alba, Clive Owen
Reviewer: Matt Eccles
Rating (out of 10): 7
Review:
The last few years have seen a welcome vogue for big screen adaptations of comic book characters, of which the Spider-Man and X-Men films are widely considered the best examples. The trend shows little sign of abating and, happily, neither does the quality of ambition and execution, as evidenced by two of 2005's most eagerly-awaited films, Batman Begins and this one.

After winning the Technical Grand Prize at Cannes, much was made of Sin City's CGI and cinematography, which emulate co-director Frank Miller's shadowy drawings with uncanny precision. The imaginative use of monochrome with splashes of colour - or maybe that should be splatters of colour, given the frequent blood-spillage - is a device which makes this noir-inspired film one of the most visually striking offerings of the decade so far.

Sin City tells three main stories: the first, and most effective, is The Hard Goodbye, where a near-indestructible hulk played by Mickey Rourke seeks vengeance for the murder of a prostitute. Then comes The Big Fat Kill, in which Clive Owen attempts to clear up the mess after an undercover cop (Benicio Del Toro) is killed (and which features a sequence helmed by "Special Guest Director" Quentin Tarantino). Finally, in That Yellow Bastard, Bruce Willis tries to make good on a vow to protect Jessica Alba, a pole dancer being pursued by Nick Stahl's deformed, demented freak.

These stories may not vary much from the central themes of violent revenge and redemption, but they move at a lively pace and are always stunning to look at. Also remarkable is the calibre of the cast, of which Rourke and Elijah Wood are most memorable. Two sequels are already on their way and, on this evidence, that is surely good news.