Film reviews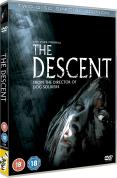 Title: The Descent
Director: Neil Marshall
Stars: MyAnna Buring, Craig Conway, Natalie Jackson Mendoza
Reviewer: Matt Eccles
Rating (out of 10): 7
Review:
Neil Marshall's entertaining low-budget werewolf movie Dog Soldiers had a bunch of squaddies trying to combine their forces against a supernatural foe whilst stuck in a corner in the great outdoors. A similar premise is used for this follow-up. The only major differences here are the almost exclusively female cast and a gaping absence of the tongue-in-cheek style that was a feature of its predecessor.

Several women embark on a pot-holing expedition a year after one of them lost her partner and child in a car accident. After falling rocks block their way out, their trust for each other disintegrates as rapidly as their supply of flares and torch batteries. However, the darkness, claustrophobia and conflicting personal agenda become the least of their worries when hungry otherworldly creatures start to circle.

With what appears a much more substantial budget this time out, Marshall has orchestrated a slick series of tense set-pieces punctuated by enough shocks and jolts to ensure much flying of popcorn. The film worked very well in the cinema, where big screens and surround sound helped to transport the viewer's perception of surroundings from airy auditorium to cramped, dusty passageway. However, the film is terrifically paced and doesn't flinch on the money shots, so is likely to be as sucessful on smaller formats. Given all this, it is easy to overlook the impressive cinematography which, for example, captures the creepy red and green hues of flare-lit caverns very effectively indeed.

Although Marshall still can't resist including unsubtle references to other classic schlockers, The Descent is overall a satisfyingly taut and grisly British horror movie that offers one of 2005's best reasons not to go venturing out of the house at the weekend.