Film reviews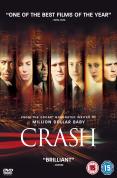 Title: Crash
Director: Paul Haggis
Stars: Sandra Bullock ; Don Cheadle ; Matt Dillon ; Jennifer Esposito ; William Fichtner ; Brendan Fraser
Reviewer: Matt Eccles
Rating (out of 10): 7
Review:
Directed and co-written by Paul Haggis, Oscar-nominated screenwriter of Million Dollar Baby, and featuring an eye-catching ensemble cast that includes Don Cheadle, Matt Dillon, Thandie Newton, Sandra Bullock and Brendan Fraser, Crash has no lack of high-profile talent on board.

Pleasingly, none of it is wasted: the performances are uniformly impressive (Cheadle being the stand-out) and the writing and direction, while initially heavy-handed, leave a strong impression.

Several stories addressing racial prejudice, ignorance and fear eventually collide, attempting to challenge our pre-conceived attitudes along the way. The resulting sparks leave flashes of insight, doubt, hope and tragedy. While the issues are generally worthy and thought-provoking, the first 30 minutes has Haggis so determined to ensure we consider Crash a serious and profound parable that his delivery has the subtlety of a sledgehammer. However, once we're anaesthetised to this approach the film becomes more coherent, even rewarding.

So despite a slightly portentous tone, this didactic drama is certainly one of the more thoughtful films of 2005 and contains enough talking points to suggest it will also be one of the most memorable.