Film reviews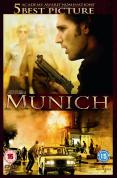 Title: Munich
Director: Steven Spielberg
Stars: Eric Bana ; Daniel Craig ; Ciaran Hinds ; Mathieu Kassovitz
Reviewer: Matt Eccles
Rating (out of 10): 6
Review:
It seems a very long time ago that Steven Spielberg gave us a purely visceral summertime blockbuster (arguably The Lost World: Jurassic Park back in 1997), the sort of film he surely does better than anyone else. This gap might well be because he seems to have nothing left to achieve in the genre, long being recognised as one of the greatest film-makers in history and becoming a billionaire with it.

Had his takes on Minority Report (2002) and War Of The Worlds (2005) been made in the 80s or 90s they would not likely have been infused with the grim, political undertones that in the 00s have become a familiar theme of the director's increasingly eclectic output. This seems to have culminated in Munich, the story of the aftermath of the kidnap and murder of 11 Israeli athletes by the Palestinian terrorist group known as "Black September".

A Mossad special agent (solidly played by Eric Bana) is recruited, along with specialist cohorts, to track down and assassinate those thought responsible. Thus begins a torrid cycle of violence, recrimination and mistrust as the group conscientiously obey orders they find increasingly difficult to lend credence.

As expected this is a film very high on technical quality and it contains a handful of startling scenes. That it doesn't quite make the overall impact it might have is probably due to its message - that between two opposing ideologies, violence often begets violence - being one with which 21st century audiences are over-familiar.