Film reviews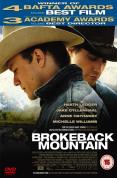 Title: Brokeback Mountain
Director: Ang Lee
Stars: Heath Ledger ; Jake Gyllenhaal ; Randy Quaid ; Anne Hathaway
Reviewer: Matt Eccles
Rating (out of 10): 6
Review:
Expected to sweep the board at the 2006 Oscars, Brokeback Mountain had to make do with Best Director for Ang Lee, Best Adapted Screenplay for Larry McMurtry and Diana Ossana and Best Original Score for Gustavo Santaolalla. Ironic, then, that its most impressive credentials, being Rodrigo Prieto's cinematography and the performances of leads Heath Ledger (as Ennis Del Mar) and Jake Gyllenhaal (as Jack Twist), were overlooked.

Based on E. Annie Proulx's short tale of a pair of ranch hands who embark upon a long-term yet taboo sexual relationship, there is plenty of intense emotion, but once the story is put under close scrutiny its shortcomings are laid bare; much is made of the central characters' feelings for each other, yet it seems these aren't enough to prevail over the bigot-friendly moral climate of the day. They even choose to live their lives in a kind of denial in traditionally legitimate marriages. This inevitably leads to tensions when they meet periodically under the cover of fishing trips, where they are soon exposed as plain suckers for romantic grief. Although all of this may show the characters to be human, flawed and real, it does so to such an absurd degree that ultimately the film doesn't quite ring true.

It is only the aforementioned sumptuous photography and the leads' sympathetic performances that raise Brokeback Mountain above the blandness of its other questionable qualities that nabbed those few trophies on its big night.