Film reviews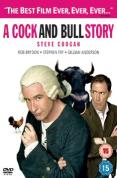 Title: A Cock And Bull Story
Director: Michael Winterbottom
Stars: Steve Coogan ; Rob Brydon ; Raymond Waring ; Dylan Moran ; Keeley Hawes
Reviewer: Matt Eccles
Rating (out of 10): 7
Review:
If there is any truth in the maxim that directors are only as good as their last film, then after the failed experiment of 9 Songs Michael Winterbottom would have had very little to shout about. He then could have been forgiven for a relatively commercial and risk-free project for its follow-up, and while A Cock And Bull Story errs far more toward popular taste, this adaptation of Laurence Sterne's "unfilmable" novel The Life And Opinions Of Tristram Shandy, Gentleman is undoubtedly another brave move. The crucial difference is that, somewhat against the odds, it works.

Rather than being a straight attempt at a page-to-screen adaptation, this takes the bold step of portraying the making of a film of the story, along the way wasting none of the opportunities this provides for brazen self-referencing and chummy in-jokes.

One of the main reasons the film succeeds must be down to the performances of the two leads, gifted British comedians Steve Coogan (as Tristram Shandy, Walter Shandy and himself) and Rob Brydon (as Toby Shandy and himself). The film is at its best when they are exchanging fiery banter, which mostly has Coogan striving to ensure Brydon doesn't steal his thunder in the Shandy film. That for A Cock And Bull Story's audience this frequently happens in the dressing room scenes is probably its most ironic feature of all, though the debate about how much of this is accident and how much design shouldn't get in the way of what, in the end, is simply a frequently funny and very British romp.