Film reviews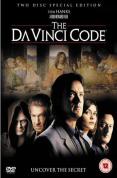 Title: The Da Vinci Code
Director: Ron Howard
Stars: Tom Hanks ; Audrey Tautou ; Ian McKellen
Reviewer: Matt Eccles
Rating (out of 10): 4
Review:
The opening film of the 2006 Cannes Festival, Ron Howard's adaptation of Dan Brown's mega-successful novel arrived upon waves of controversy and anticipation only to make most wonder what all the fuss was about. Its profile was of course unintentionally buttressed by a significant contingent of irony-deficient Christian believers who dismissed Brown's story as nonsense, while apparently oblivious that The Da Vinci Code's narrative lacks much of the primitive supernaturalism of the New Testament.

But that doesn't mean Brown's yarn is any less preposterous, as the story - basically a convoluted treasure hunt for the Holy Grail - only works if a series of wholly ridiculous premises are accepted uncritically. Of course, this would be forgivable on its own if Brown (and screenwriter Akiva Goldsman) didn't want us to take it all so seriously. Even then, the film could be saved by tight direction from the usually reliable Howard and lively turns from leads Tom Hanks (as symbologist Robert Langdon) and Audrey Tatou (as Agent Sophie Neveu). However, they simply do not appear to see past the dollar signs in their eyes. At least Ian McKellan (as Sir Leigh Teabing) is aware of how barmy it all is and gives a performance to match.

Despite all this, Paul Bettany, as Silas, a self-flagellating, albino Opus Dei monk, and Hans Zimmer, whose intense choral score belongs in a better film, both manage to emerge with a fair degree of credit. But this is overwhelmingly a daft, dull slog of a movie.