Film reviews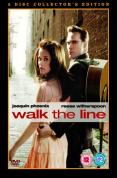 Title: Walk The Line
Director: James Mangold
Stars: Joaquin Phoenix ; Reese Witherspoon ; Ginnifer Goodwin
Reviewer: Matt Eccles
Rating (out of 10): 8
Review:
Festooned with awards, particularly for the lead performances of Joaquin Phoenix and Reese Witherspoon (who secured the film's only Oscar), this biopic of legendary singer Johnny Cash spent a long time in development but proves to be worth the wait.

Although it treads fairly safe ground with its mostly linear narrative and focus on Cash's rise to fame, the story is told with such verve and aplomb by director James Mangold (who also co-wrote the screenplay with Gill Dennis) that it seems zippier than its two-and-a-quarter-hour running time. Of course, at its heart are two superb turns from the leads, who authentically mimic the voices of Johnny Cash and June Carter without the aid of dubbing.

Their portrayals are so impressive that it's easy to overlook the other fine performances, particularly from Ginnifer Goodwin, as Johnny's beleaguered wife Vivian, and Robert Patrick as Ray, Johnny's stolid, bitter father. Even though the script veers little from a straight biopic formula and endeavours to tick all the mandatory boxes, it manages to be highly engaging all the same and ensures that Walk The Line's considerable critical and commercial success is well deserved.